Winter showed us that it is just around the corner with a chilly breeze and some annoying rain.  But hey, we've had an amazing summer and the conditions today did not stop the fun and the competition.  The section play of the Junior 1-5  Championship Pairs was being played so the Harcourt's Community Carpet green was in full use.  Great to see.
The Saturday pm Haggle is starting at midday from next week.
The winning team this week was the team of Neville O'Connor and Graham Ward with 3 Wins, 15 Ends and 30 Points.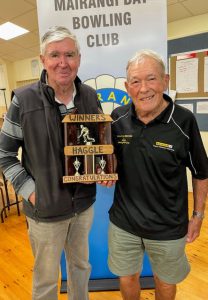 2nd – 2W, 12E, 20P – Peter Orgias and Judi Farkash
3rd – 2W, 12E, 14P – Les Boulton and Jeanette Orgias
Lucky Dip – Colleen Rice and Kevin Robertson
Many thanks to Gayle Wilkinson for organising the draw, to Russell Parkinson for sorting out the winners, to Alan Daniels for opening the bar and to Les Boulton and others who helped with the set up and pack down.