Winners of the Harcourts Classic were Chris Taylor, Murray & Connie Mathieson and Jan Calcott with 33 game points. All from Takapuna.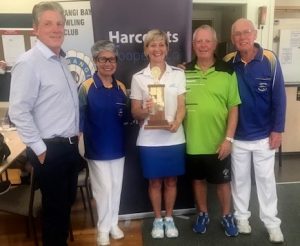 Martin Cooper from Harcourts Cooper & Co was on hand to present the trophy & prize money.
Second place went to Bryan Chapman's team from Howick with 30 game points & a differential of +40. Gary Banks team was 3rd, also with 30 game points but a lesser differential.
The tournament was played over 2 very hot days. There was a reduced field of 20 with visiting teams from Orewa, Takapuna, Beach Haven & Howick. Next season the format will change to be a Jack & Jill i.e. teams must have at least 1 woman & 1 man.
MBBC is very grateful for Harcourts Cooper & Co continuing their generous sponsorship & in particular for the support from Jo Mimmack & James Dixon. If you are considering putting your house on the market please contact Jo tel 027 496 5429 or James tel 021 0360 747. Our sponsors appreciate your support.
Thanks to James for supplying the extra photos.