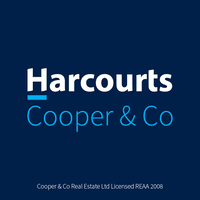 The Harcourts Cooper & Company Fun Day November 29th,, with the support from Jo and James, went ahead despite the weather forecast threatening showers.  18 teams participated in near perfect conditions. Many people got in to the swing of things & were attired in Christmas themed wear which gave the greens a colourful look.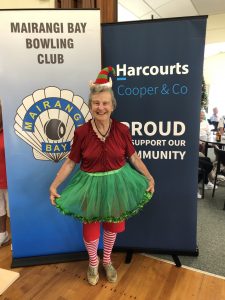 There was some stiff competition on the greens with 5 teams on 3 wins each heading in to the final game. Unfortunately for 3 of them, as is often the way, their grasp on a ham prize slipped away.
Jo Mimmack & James Dixon were present for Prize Giving along with Martin Cooper & Robyn Coles from the Mairangi Office. Jo has been a long time supporter of MBBC & is now working in association with James Dixon. We are very grateful for their generous sponsorship.
Coming first with 4 wins & 26 ends was the team of Murray Radojkovich, Brian Rogers & Theresa Rogers.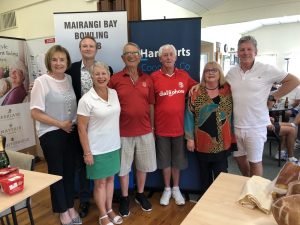 In second place with 4 wins & 22 ends was John Miles, Kevin Sturgeon & Caryl Miles.
Every team received a prize, varying from hams, bottles of bubbles, wine, boxes of Christmas crackers, Christmas puddings & turkeys.