Continuing a sponsorship going back 17 years, Integrated Security System sponsored the any combination triples competition on Thursday 22 April 2021. ISS is proudly 100% owned and operates security services nationwide to residential, retail, small business, industrial, school, and private or government corporate clients.  The owner, John McKnight was unable to attend the prize giving, however he appreciates the support from Mairangi Bay and as Trevor Tozer (one of our life members) said, if you are considering new cctv surveillance, alarm, access control, intercom systems, then please consider our valued sponsor ISS.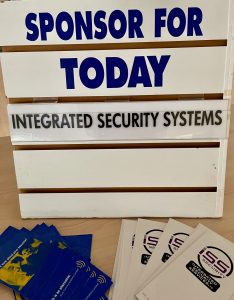 There was a definite autumnal feel to the early morning a and while there was no sign of rain, the breeze from the South West saw most players wearing an extra layer (or two).  With maintenance commencing on the Knightsbridge green, the field was split with each team playing two games on grass and two games on the carpet. The extra layers of clothing were not required up on the Harcourt's Community Carpet green as it was sheltered from the breeze and was quite a hot spot. The feedback from the players is that the carpet green is running true and fast.
There were 3 teams that had 4 wins.
with 4 Wins, 29 Ends and 69 Points, the winners were the team of Leon Wech, Wayne Glogoski and Baz McCrystal.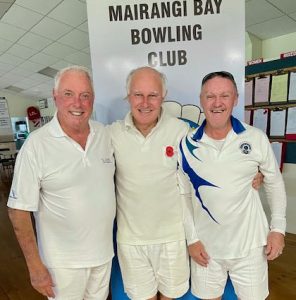 2nd – 4W, 27E, 52P – Tony Trent, Tony James and Ron Horne
3rd – 4W, 25E, 49P – John Gledhill, Allan Donnelly ad Norm Clarke
4th – 3.5W, 20E, 35P – Ruth Lynch, Evan Thomas and Ian Hardy
am prize – Arthur Beale, Kevin Cameron and Brian Rogers
pm prize – Ian Coombe, John Valentine and Bruce Aley