report from Ric Lydford.
And so our long hot fabulous summer draws to a close and we terminated our highly popular and successful Jackpot Pairs and Super Joker Pot.
What a turn out. A full field of 32 teams and 200 raffle tickets sold. (Thank you John V & Leon)
Best 2 winner Ric & Theresa. $50
Best 1 winner Phil & Ron         $50
Worst no winner, shall remain nameless BUT we know!!! $20
Also a couple of lucky card no. for $20 ea.
Jackpot Pairs of $140 to Brian & Louise with a score of 5
Then onto Super Joker Pot of $850 that MUST be won.
There were 17 cards remaining.  11 people were drawn, chose a card and were disappointed BUT received a bar tab to help drown there sorrows.
A twist was played by the convener, and after the first 3 draws the Super Pot of $850 was reduced by $50 after each failed draw to find the joker.
Finally at $400 the Joker was found by GARTH P.
Well done boyo.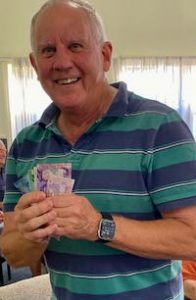 We then drew 10 prizes of $50 each (5 from each raffle) to ensure that the "Cash was Splashed"
(Amazing, there were 53 cards on display and it took 45 draws to find the Joker.)
Thank you to everybody for turning up during the season and making this FUN day so good.  Perhaps it may return next year and maybe a new Convener will step up and introduce new ideas.  Who Knows.  Thank you to the anonymous club bowler/s who supported this event with a financial contribution as sponsor. Truly appreciated.
Again, thank you to all player, helpers, bar staff and in particular, DAVID, who without his expertise in drawing the winner-plays-winner format, this event would not have happened. It was a fun event and saved me a fortune. I Thank you sincerely
Ric Lydford
A new initiative is being introduced this year after sanction from our Board
WINTER  FRIDAY BOWLS.
FRIDAY $PLA$H THE CA$H
Played fortnightly on Friday Afternoon on the CARPET green.
SINGLE  ENTRY – TRUE  BLIND  DRAW  $10 entry fee.
Start 1.00pm  2 Games  1 hour 15minutes each.
3 Bowl Pairs   Reverse playing position after 1st game
Prize money depends on entries.  Will have a Jackpot based on random final score (some sponsorship would help this – inquiries ALWAYS welcome))
Again, anybody/team can win. Fun bowls at its all time best.
FIRST  DATE  FRIDAY  7TH  MAY
Sheet up in normal place.  (Already over half full )
Convener,
Ric Lydford