At the Bowls North Harbour prize giving on Sunday 24 June 2022, Mark Cameron, CEO Bowls New Zealand, awarded the Distinguished Umpires Award to our Jean Ashby OMNZ.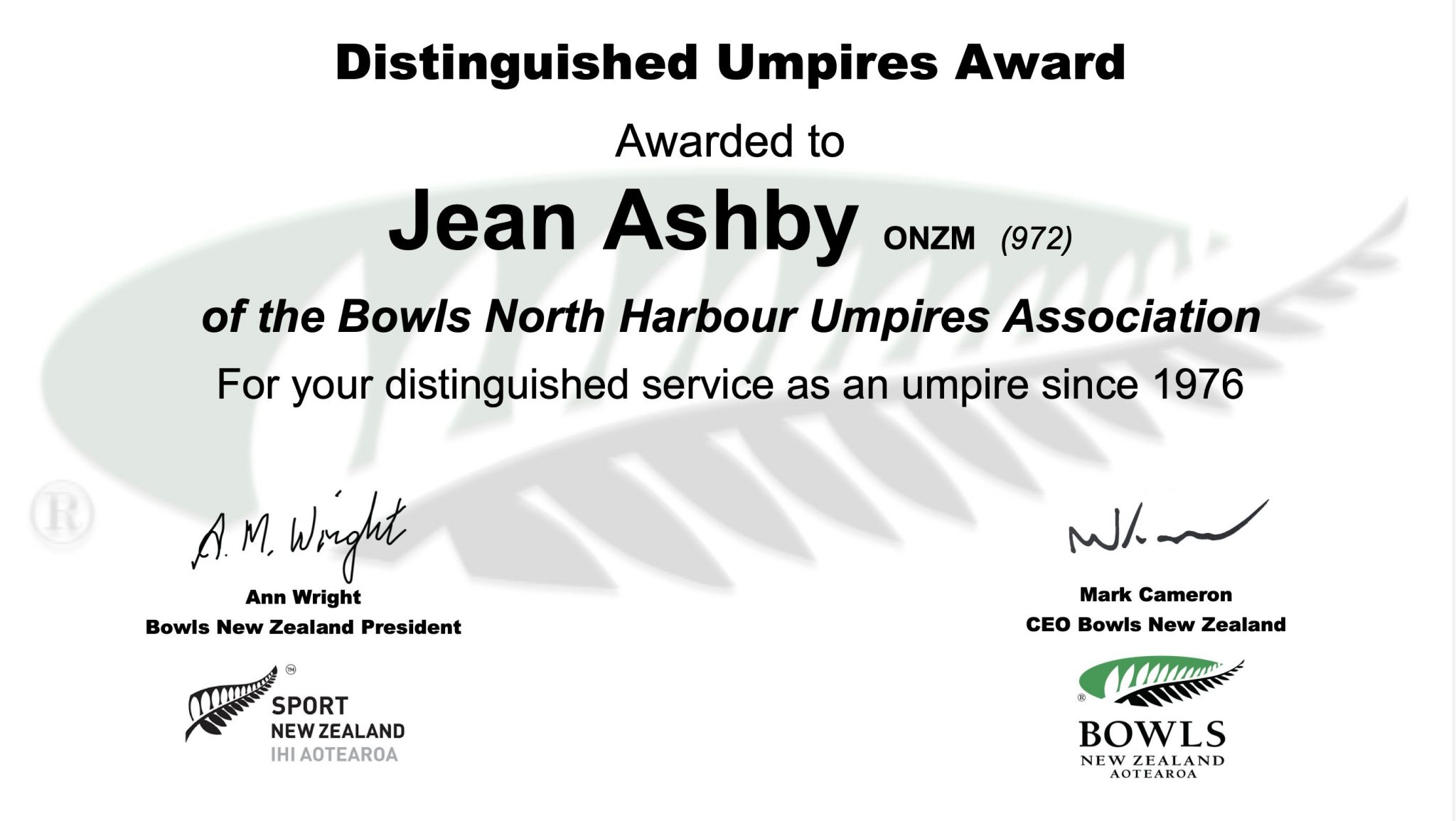 In making the award, Mark Cameron said
"The Distinguished Umpires Award is awarded to Jean Ashby in June 2022. This award acknowledges Jean's distinguished service as an umpire in New Zealand for the last 46 years.
Jean started her bowls journey in 1967 when she joined the Mairangi Bay Bowling Club. Jean qualified as an umpire in 1976 and has been an active umpire ever since. Jean has officiated at numerous club, centre, national and international events including the World Bowls Championships and Commonwealth Games.
Alongside this excellent record of service for North Harbour, Jean has also served on Bowls New Zealand Umpires Board, the Judicial Committee, the Academy Board and as an Independent Board Director. Jean has also had an established career working in bowls administrative roles at a centre level.
In recognition of Jean's excellent service to the sport of bowls and umpiring, Jean has been awarded life membership of the Mairangi Bay Bowling Club, Bowls North Harbour and the Bowls North Harbour Umpires Association. In 2002, Jean became a life member of Bowls
New Zealand. Jean became an Officer of the New Zealand Order of Merit (ONZM) for her services to bowls.
Jean is known nationally as an exceptional umpire and administrator. Throughout her career, Jean has been highly respective for her umpiring skill and knowledge. Jean has umpired at the highest levels of the sport. Jean has always been a regular face at meetings and events and is always there to offer her support, wisdom and advice.
Jean, you have made a distinguished and lifelong contribution to the sport of bowls and umpiring. Your service, dedication and integrity is held in the highest regard. You have been influential across the game and have been a true leader. You have supported and mentored many umpires in their own umpiring journey. It is with great pleasure that we award you the Distinguished Umpires Award."
Our congratulation and thanks go to Jean for making us so proud and for all of her achievements.