Hi Everyone ,
Please find a new update for our current bowls season.
We have some more new bowlers to Welcome , Rick George , Flora MacDonald , Rosemary Nicol and Marian McDonald.
All our new bowlers are showing a lot of enthusiasm and are partaking in coaching and playing tournaments. Great to see.
Upcoming Events
Entry forms and details for the Milford 5000 and the Mangawhai Classic were attached to an email copy of this message and sent to all our junior bowlers.
The Mangawhai tournament is on Friday 27th December 2019.
It is for 1-5year bowlers only and is a classic fours where you play singles/triples, pairs and fours.
Cost $40.00 per team and morning tea and afternoon tea supplied.
This is a really enjoyable tournament which I strongly recommend.
Milford 5000 is one of New Zealand's richest tournaments. It also is a very strong tournament with sides coming from Auckland, Northland and Waikato and sometimes further afield.
It is being held on the 1st and 2nd of February 2020.
It is a 1-8 year tournament with each team to have at least one 1-5 year player.
It is a two bowls triples Tournament any combination, all bowlers in a team must be from the same club.
Cost is $195 per team, $65 per player, this includes two days of bowling, chances to win prize money and morning tea and lunch both days.
The top 16 teams on the first day will go into the championship round and the bottom 16 will go into the plate section.
The Junior Interclub starts this coming Monday 11th with the first game down at our club at 5.30pm.  (feel free to come down and watch)
We have two teams entered and as they are both in the same pool they will play each other that night.
We have three first year players playing in one of our teams.
Good bowling to both teams who are under no pressure to retain the Mercedes Cup won last year. (no pressure – yeah right).
Monday coaching run by Ian Coombe is going well and if any of you require coaching let Ian know.
He has a team of experts to assist him with the coaching.
The Bays Cup was held on Labour Day Monday for 1-8 year bowlers.
We had a field of 18 with some top teams from other clubs, we also had some first year bowlers from our club getting experience at this level which was great to see.
A big thank you to Sandra Coombe for running this tournament and all those whom assisted her.
There were four, four winners on the day, so it all came down to the number of ends.
The winners of the Bays Cup were Matthew Higginson and Willie McIvor from Orewa.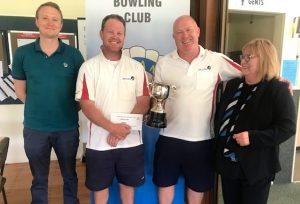 Many thanks to James and Jo from Harcourts Cooper & Co, the major sponsor of the Bays Cup
Second were Bob Telfer Takapuna and Kevin Rainsford Manly.
Third were David Payne and Colleen Rice from Mairangi Bay.
Fourth were Roger Johnston from St Heliers and Theresa Rogers from Mairangi Bay.
If you are requiring uniforms please talk to Sandra Coombe on 021647389 or Sandra.coombe@outlook.com
Great to see a change in the weather, warmer and little wind. Hope that this will hold through to Christmas but I would not count on it.
Lots of bowls on at the moment with Pennants and the Seven's and our Handicapped Pairs and Singles events.  For details, these events are in our club handbook and entry to our club events is by entering your name on the entry sheet on the events notice board.
There will be Ham tournaments played during the month of December so check your bowls diary for those. These tournaments may cost a little extra to enter, however there can be up to 45 hams awarded as prizes.  A real treat for the Christmas table.
May your bowls keep getting close to that yellow thingy !!!!
Regards and good bowling
Alan Daniels
Junior Convenor / Selector