Saturday 18 December saw the first day of the Men's Triples with a field of 12 teams.
The weather was not helpful, being very windy, sometimes gusty and saw the downfall of a few favoured teams, notably the Coombe, Radojkovich, Glogoski and Cain teams.
Best result of the first day was the Miles team needing to win their last game against Nolan who had already qualified.  The Miles team won in an extra end.
So with 6 qualifiers for Sunday post-section we had Chisholm playing and beating Wech 19-12,  Orgias playing Miles and winning 19-17 on an extra end both teams going to semi with Nolan and Daniels teams who had a bye.
Nolan beat Daniels 17-14 and Orgias beat Chisholm 21-11.
The final was quite one-sided with skip Orgias and David Payne in the middle, playing precision bowls running out the winners at 23-3 in a shortened game.
So the winners of our first finished game of the season are Peter Orgias, David Payne and Allan Langley with Brian Nolan, Kevin Robertson and John Gledhill as the runner-up team.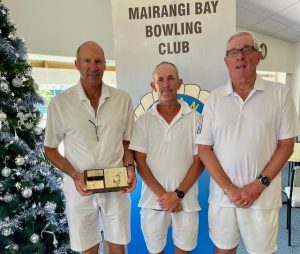 David Pearse