The field for the Men's Championship Singles was split into two sections of 16 players and these were played over the two weekends of 9th and 10th March and 16th and 17th March, with Sunday the 17th being the post section knockout stage.  Unfortunately, rain caused play to be abandoned on the first Saturday and the games that were postponed were made up during the week.
So to the finals on Sunday 17th March.
On Sunday 17th, in the semifinals, Colin Rogan beat Brian Rogers 21/9, and Kevin Cameron beat Steve McGregor 21/9.
In the final, Colin started strongly and went out to a lead of 14 / 2, handling the green conditions better than Kevin.  At that stage, the jack was delivered long and into the ditch and that gave Kevin an opportunity to take the mat up and deliver the jack to the two-metre mark, a decision that made a game changer. 
The momentum changed and Kevin started to accumulate some points, however, Colin went to 17 and Kevin made it all the way to 16.  With that Colin managed a two and then a one.  Score 20 / 16 to Colin.
We all know how difficult it can be to take out the final point and with Kevin finding form from his experience over the previous day of qualifying and he made a two and then another two.  Score now 20 / 20 and Kevin delivered the perfect bowl to sit right on the jack.  A tricky time for Colin and yet with his skill and experience, Kevin had some nervous times while going through the delivery of his final three bowls, which he did with skill and forced Colin to take on a weighted delivery, which found one of the small gaps and missed its mark.  Final score, 21 / 20 to Kevin Cameron: Men's Singles Champion for the 12018 / 2019 season and Mairangi Bay Bowling Club representative in the Champ of Champ North Harbour Singles.
Congratulations Kevin and well bowled Colin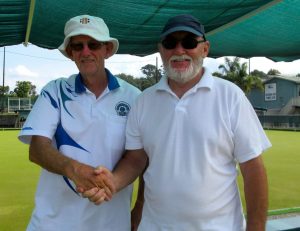 Well played to all the entrants.  This is a well-established feature tournament for the club and it was great to see such a strong field of entries.  Thanks also to all those who turned out in support, marked up the greens and volunteered as markers for the games.  Thanks also to David Pearse for yet another well-run club event.