Record entry numbers this year for the annual Milford Asset Management Christmas Ham tournament which is an open, mixed, 2 bowls triples, competition.
All rinks on our Knightsbridge and Mayfair grass greens were in play in conditions that included a moderate  breeze from the West.  The morning games were split by a delicious morning tea and the afternoon games were back to back.  Special thanks to all who assisted with the logistics on the day and especially to Sandra Coombe who had to manage some late changes to the field and spent many hours on the phone filling spots that had been vacated at the last minute.
The generous sponsorship from Milford Asset Management meant that there were plenty of hams and other prizes on offer to the best 4 winners on each green and then overall prizes for the minor placings.
Michal Denz, Client Manager with Milford Private Wealth presented the prizes, distributed investment information and answered questions about investing with Milford Asset Management.  Many members took the information brochures from the tables as they were interested in the investment opportunities and have heard from other members that have already invested that the quality of service and the investments returns from Milford Assets Management are very high, especial when compared to other rates offered by banking institutions.
For further information on the investment options, please visit the Milford Asset Management website.
www.milfordasset.com
Michal Denz – Client Manager – Milford Private Wealth
email: mdenz@milfordasste.com
On the Knightsbridge Green, the winners were Chris Taylor, Trevor Ford and Connie  Mathieson , visitors from the Takapuna club and regular players in our tournaments.  They achieved 4 Wins with 35 Points.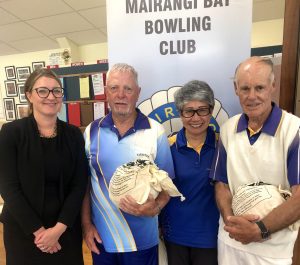 2nd – Phill Chisholm, Jan Gledhill,and Kevin Cameron – 4W, 32P
3rd – John Gledhill, Judy Cowie and Steve McGregor – 4W, 29P
and on the Mayfair Green, the winners were Murray Radojkovich, Theresa Rogers and Brian Rogers with 4 Wins and 34 Points.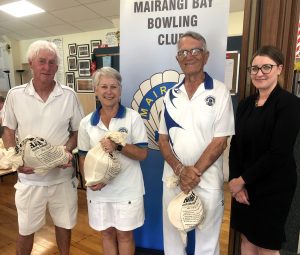 2nd – Ian Coombe, Sandra Coombe and John Valentine – 4W, 32P
3rd – Peter Orgias, Jeanette Orgias and Allan Langley – 4w, 31P
Again, many thanks to our generous and long time sponsor, Milford Asset Management Limited.  It was great to see you there Michal. Thanks you for handing out the hams to the happy winners.