A beautiful day, a full field of 32 teams & 2 very quick greens lead to some very close games.
Ham prizes were given for 1st to 3rd on each green. There were no 4 winners which was indicative of the even field. First on Knightsbridge was the team of Barry McCrystal, Jim Price & Sherril Watson with   3½ wins, 24 ends & 60 points.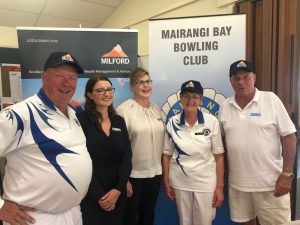 In second place were Judith Seagar, Hilary & Gordon Ross with 3 wins, 32 ends & 68 points.
On Mayfair also with 3½ wins 33, ends & 59 points was the team of Ian & Sandra Coombe with Stuart Jamieson. In second place were Leon Wech, Colleen Rice & Bevyn Darlington with 3 wins, 31 ends & 61 points.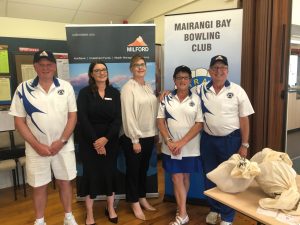 First to third on each green received hams, plus 4 Round winners & 2 teams won hams in the Lucky Draw. In total, thanks to the very generous sponsorship of Milford Asset Management, 36 hams were awarded as prizes as well as another 3 hams as raffle prizes.