The Mixed Pairs Championship was played over the weekend of the 30th & 31st January 2021, with 16 teams entered. (thanks again to the Ross team who replaced the Rennie at the last moment
when Ron went into hospital on Friday.)
After the first 2 rounds, 14 of the 16 teams needed to play the 3rd game, leaving us with 8 qualifiers.
Game 1 of post section saw Bruce & Flora defeat Tony P & Gayle 16/15 after an extra end, John & Caryl Miles beat John G & Gerd 16/15, Leon & Colleen beat John V & Jan G 14/13, last bowl, and Barry & Sheryl beat Peter & Jeanette O 18/15.
All very close but the semi-final was a different story.
John & Caryl raced away from Bruce & Flora 21/7 and Barry & Sheryl overwhelmed Leon & Colleen 23/9.
The final was viewed by a pretty good crowd, who were entertained to a game of changing fortunes until the 16th end when Barry, already holding 2 shots, clipped the edge of the jack to move it to the Miles and allow the Miles to enter the last end holding a 4 shot advantage.   3 shots by Caryl, a foot from the jack, quickly erased any chance of defeat and allowed the Miles team to win 22-17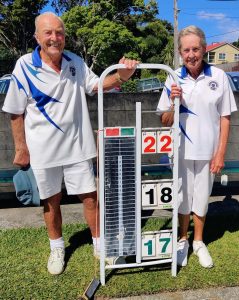 Congratulations to John & Caryl on a wonderful effort, they deserved all the praise they received. Later Caryl revealed it was her 50th Championship title. Amazing!
report by David