With some last minute juggling by David Pearse, which was caused by some late withdrawals, there was a full field and therefore a bye was averted.  Here's a request. If you are on the wait list, please be prepared for a call up at around 9:00am on the day and don't make other arrangements to go out and party. Having the entry sheet full and with a wait list is so positive and a great problem to have, but please do be available to play if you are on the wait list.
So, what happened in the bowls?  Well the only reason to take a new photo was that the winning team had changed their wind-breakers.  Congratulations to the team of Murray Radojkovich, Colleen Rice (birthday girl) and David Payne.  Congratulations.  The pressure is now on to make it a three-peat.
They had 4 Wins, 26 Ends and 62 Points. Pretty impressive.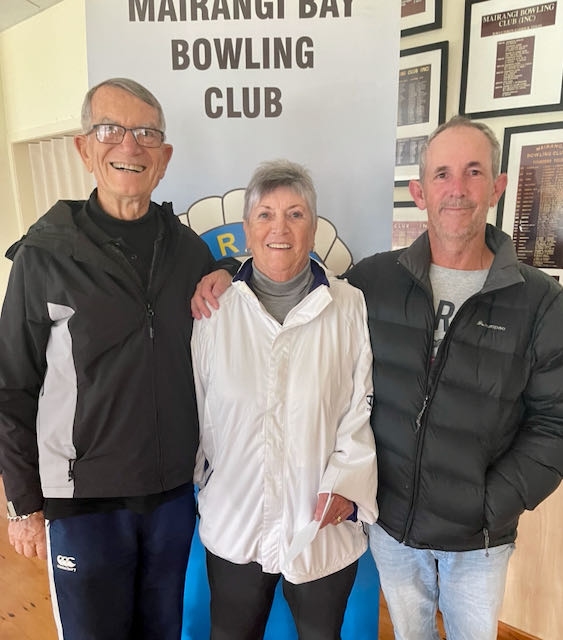 2nd – 4W, 24E, 50P – Larry Cain, Gaye Horne and Ron Horne
3rd – 3W, 25E, 54P – John Gledhill. George Durbridge and Brian Nolan
4th – 3W, 25E, 47 P – Bevan Darlington (welcome back). Baz McCrystal and Leon Wech
am prize to Peter Orgias, Gordon Jenkins and Allan Langley
pm prize to Phil Chisholm, Ric Lydford and Theresa Rogers
lucky dip to Megan, Keiko and Glenda