Although the conditions were unpleasant, the bowling was, once again, of a very  high standard.  Ian Hardy and Phill Chisholm were the winners with 4 wins,28 ends and 48 points.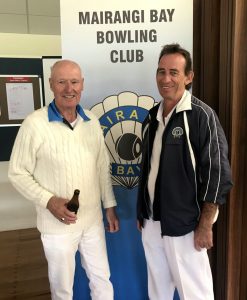 In second, also with 4 wins, was the team of Larry Cain and Steve McGregor who won 26 ends and had 46 points.  Next, with 3 wins were Murray Radojkovich and Kevin Torrey with 21 ends won and 46 points.  The fourth place went to Kevin Cameron and John Lindsay who managed 3 wins and 29 ends.
Congratulations to all the winners and to all players who survived pretty unpleasant conditions.