A full field played out the regular Thursday winter event of 4 games, three bowls triples, in mainly fine conditions with just a couple of sprinkles of rain.
Coming out on top, with their 4 wins, was the team of Murray Radojkovich, Dave Payne and Colleen Rice. It would have been hard to topple their 24 ends won, 66 points-for score.  Congratulations Team Murray.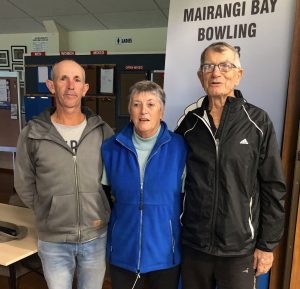 The other 4 winner was the team of Lionel, Theresa  Rogers and Ric Lydford and they collected 22 ends and 42 points.
There were a number of 3 winners, however with only two prizes left to distribute, there were some heart felt  "Oh Dears!!" offered to the unlucky three winners.
In third place was Peter Orgias's team.  He was joined by Gordon Jenkins and Allan Langley to soar to the top of the 3 winners with 23 ends won and 41 points.  Kicking themselves for not getting just one more end will be the fourth placed team of Larry Cain, Noelene Culpan and John Lyndsay.  In taking out fourth place their score was 3 wins, 22 ends and an impressive 50 points and their consolation will be that they made it to the prize pool and recovery their entry fee, plus a bit.
This event is gaining in popularity and support from bowlers from other clubs.  As always, Mairangi welcomes all visitors.  The entry sheet for next week is up on the board by the main entrance to the clubhouse and while filling fast, there are still some gaps as some of the regular participants have other commitments at this time of year.  Get down there and get you name on the entry sheet.