The format for the day was 4 games of 3 bowl triples consisting of 10 ends or to the time clock.
The conditions were mainly fine with some periods of cloud cover which changed the temperature quite dramatically as the wind gusted from the west and was quite cool at times.  The greens were running nicely and as they were rotated 90 degrees at the lunchtime break, there were no scrims required.
The conditions and the strong field resulted in 4 teams who managed 4 wins, with the winning team on the day accumulating 26 ends and 60 points.
Congratulations to Con Cater, Trevor Ford and Garth Partridge.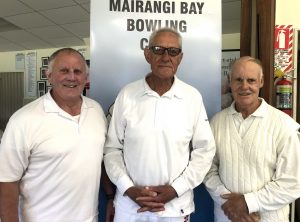 In second place with 26 ends and 55 points was the team of Albert Salvador, John Gledhill and Alan Donnelly.
Arthur Beale, Brian Rogers and Janne Beale who, while also winning 26 ends had  51 points and took out the bronze medal placing.
Our visiting team from Takapuna also had a great day with their 4 wins, 24 ends and 58 points and so Chris Taylor, Norm Scott-Morrison and Wynn Grey were enriched with the fourth place prize.
Special mention to a team of our newer bowlers, Ric George, Rick Dixon and Brian Baker ,who made up a team and ran a number of their competitors to close games.  Look out for these names on the honours list some time soon, as not only are they showing enthusiasm, but also they show talent.