Aurelle Schmidt and Donna Hill were on hand to present the prizes.  Aurelle reminded us that QUAY Travel do all types of travel bookings and have exclusive packages that provide extra at hotels and for tours throughout the world.  For example when travel and accommodation is booked through QUAY Travel, the hotel rate will be the same or better than can be found online and may also include breakfasts or upgrades in the sightseeing and tour packages.  QUAY Travel has a team of 9 consultants with some, like Margaret Boak, being specialists in cruises and all with first hand experience that will add value, fun and excitement to you holiday.  Many of the club members have used QUAY Travel and speak very highly of their service, knowledge and dedication to ensuring travel goes smoothly.
Another day of ideal bowling condition with a little breeze and superb greens saw a big field take part in the Any Combination, Open Triples: a ham tournament sponsored by QUAY Travel. We welcomed teams from other clubs and were delighted to be joined by two visitors from Mangawhai: Terry Cathcart and Steve (originally from Newcastle).  Some members may remember that Terry completed his first five years as a member of the Mairangi Bay Bowling Club before he moved north. They were hosted by Ian Baxter and said that they enjoyed the day and the friendly welcome they received.  They promised to be back.
In the Open Triples, the first place went to the team of Ian Coombe, Bruce Aley and Marie Cooper who managed to win all four games, 26 ends and 60 points.
In second and third places, also both with four wins, were the teams of Garry Banks, Grant Keats and Theresa Rogers and the team of Ruth Lynch, Ian Hardy and Phil Chisholm.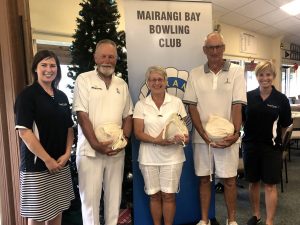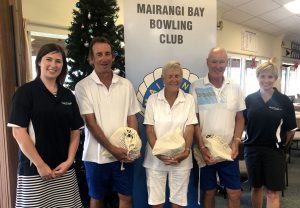 Congratulation to all the winners and all the participants.
Special thanks to Michelle Malcolm, the Managing Director of QUAY Travel, for your ongoing support of our club.