The final Thursday event for the 2020 year saw both greens in action on a day that started out being chilly and warmed up from mid morning when the sun shone through, the jackets came off and the sky was cloudless.  A perfect day for bowls.
There were hams aplenty and bottles of wine being distributed which all added to the fun and to the Christmas spirit.  Many thanks to all those involved in organising the day.
Not only was the temperature hot, the results were hot as well.  4 wins were required to gain a spot in the first three prize spots.
In the winning team were Ian Coombe, Bruce Aley and John Valentine with 4 Wins, 26 Ends and 55 Points.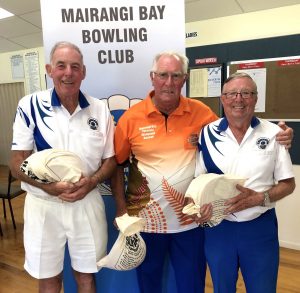 C O N G R A T U L A T I O N S
2nd – 4W, 24E,46P – Leon Wech, Baz McCrystal and Bevyn Darlington
3rd – 4W, 23E, 47P – Chris Taylor, Bevan Smith and Norm Scott-Morrison
Entries are available for the Open, Any Combination Pairs on Thursday 7th January 2021.
Stay well and stay safe over the Christmas and New Year holiday period.