A stunningly fine winters day, with a chill in the breeze and temperatures reaching just 14 degrees, saw a full field of 18 teams compete for the weekly Any Combination Open Triples.
Winners on the day were the team of Murray Radojkovick, David Payne and Colleen Rice.  They had 4 wins with 23 ends and 52 points.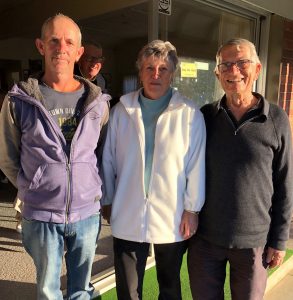 In second place, also with 4 wins, were Ruth Lynch, Evan Taylor and Ian Hardy.  They had 20 ends won and also 52 points.  Next up, in third place, were our visitors from Riverhead, Gordon Smith, Duncan Whittaker and John Tobin. They had three and a half wins.  Arthur Beale, Kevin Cameron and Brian Rogers took out fourth place with 3 wins, 24 ends and 46 points.
Thanks again to those who turned up early to put out the gear and to those who tidied up. Special thanks to David Pearse who, as always, managed the day and ran a smooth tournament, making it easy for all participants to enjoy their day.