On the Dil Funerals sponsored, final Thursday Open event for 2021, we were treated to clear skys and strong gusty winds, sometimes gusting up to 40kph.  The green was running super quickly.  The fast green, the ninety degree direction switch at lunchtime and the gusty wind made it tricky for some of the field.  However there were four teams that managed 4 wins.  Hard luck to the 4 winner John Miles team, as there were only 3 prizes to be allocated.
Barry McCrystal introduced the prize giving by thanking our valued sponsor, Dil's Funeral Services who apologised that they were unable to attend.  Apparently it is a busy time of year.
1st – 4W, 27E, 47P – Leon Wech, Baz McCrystal and Bevyn Darlington
2nd – 4W, 24E, 48P – Murray Radojkovich, Ric Lydford and Kevin Torrey
3rd – 4W, 24E, 44P – George Durbridge, Kevin Robertson and Alan Donnelly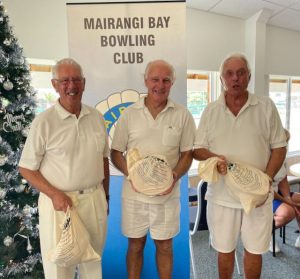 David Pearse and Ian Coombe wished all a safe and happy Christmas season and the bowlers responded with thanks to David for all the great organising of our events.  These really do run so smoothly thanks to David.
Seasons greeting to you all.  Stay safe and stay well.  If we do not see you on the 28 December for the Jackpot Pairs, see you in 2022.  Good bowling!!!