Gusty westerlies and the temperature just creeping to 13 degrees meant that is was a day for layered clothing for the full field in the any combination, open triples.  At the eastern side of the rink the wind was biting and at the western side, the sun and shelter combined to make one think it was time to strip off an layer of clothing.
There were no 4 winners on the day and the team to best handle the gusty 33 knots winds was the team of Peter Orgias, Allan Langley and Gordon Jenkins.  They managed 3 and a half wins, 18 ends and 34 points.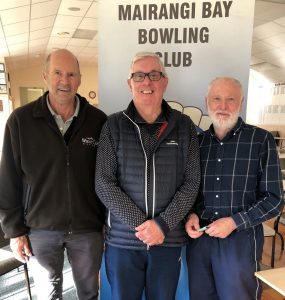 There were a whole bunch of 3 winners and with a total of six places in the prizes, there were groans aplenty from the teams that did not score the ends or points to make the report for the week.  Who knows, they will most likely feature in the winners list next time as there are some talented bowlers who just did not have the rub of the green with them this week.
2nd: 3W, 25E, 53P Leon Wech, Baz McCrystal and Bevyn Darlington
3rd: 3W, 22E, 44P Cathy and David Lloyd, Tony Trent
4th: 3W, 21E, 44P Lionel Drew, Theresa Rogers and Ric Lydford
5th: 3W, 21E, 31P Arthur Beale,Brian Rogers and Jo Baxter
6th: 3W, 20E, 42P Kevin Sturgeon, John Miles and Des Lowe