The 1-5 Junior Singles was played on Sunday June 28 in what started to be a fine day but this situation did not last very long.
In the Men's field we had 8 contenders with 4 first year bowlers virtually against 4 more experienced bowlers and though they tried hard  in the end the first year could not break into the top 4 places up for grabs.  So in first place we have David Payne to play Garth Partridge who finished fourth and Allan Langley who was second versus Kevin Robertson who was third.
With our green having renovations done this week and the weather playing a big part we will play remaining games as soon as possible.
Progress results from the Women's Round Robin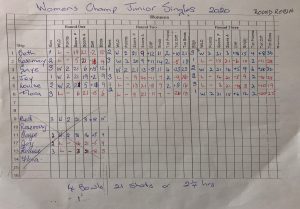 Progress Results from the Men's Section Play