On the worst day we could have chosen for the Mens champ singles finals to be played was yes, Saturday the 15th April, yet the 12 contenders battled not only the weather but each other.
In the first round Cain beat G.McGregor just 21-19,
Lloydd beat Robertson 21-5
S.McGregor beat Trent 21-10
Chisholm defeated Gledhill 21-14.
Next round saw Payne beat McClintock 21-10
Orgias beat Sturgeon 21-11
Cain defeated Lloydd 21-11
Chisholm beat S.McGregor 21-12.
The semifinal saw Payne defeat Orgias  21-16 and Chisholm beat Cain 21-15.
It was a pleasure to see the outstanding final played on Saturday in extremely windy conditions, a strong gusting north easterly, variable in speed and direction, head wind towards the beach, tail wind towards the carpet.
In the semi-finals David Payne had defeated Peter Orgias and Phil Chisholm had defeated Larry Cain, both by about the same margin, 21/15, 21/16.
The final match was very even through the first 10 ends, but David was often able to get the crucial winning bowl and by the 21st end was leading 20/13.  As we all know getting that final point to 21 is frequently challenging and so it proved, with Phil winning the next 4 ends to be trailing 20/18.
On what turned about to be the final 25th end, Phil was holding 2 shots, slightly behind the kitty, right and left, about 12cm away. David with his final bowl, knowing he was down 2 shots and 20/20 a highly likely scenario, drew around a shorter bowl and moved Phil's shot bowl and took it's place, about 6cm from the kitty. A superb final bowl in light rain to win his first singles title, 21/18.
This was an outstanding exhibition of draw bowling with the occasional weighted bowl and very few drives.  Congratulations to both bowlers, you would have both been worthy champions.
To President Kevin Cameron, marker, both players using white bowls, well done on clearly indicating who had the shot and helpful for the audience who often could see 8 white bowls within a metre and uncertain as to who was holding shot. On numerous ends the lead would change 3 – 4 times, such was the closeness of the final. An exhibition of singles bowling at its very best.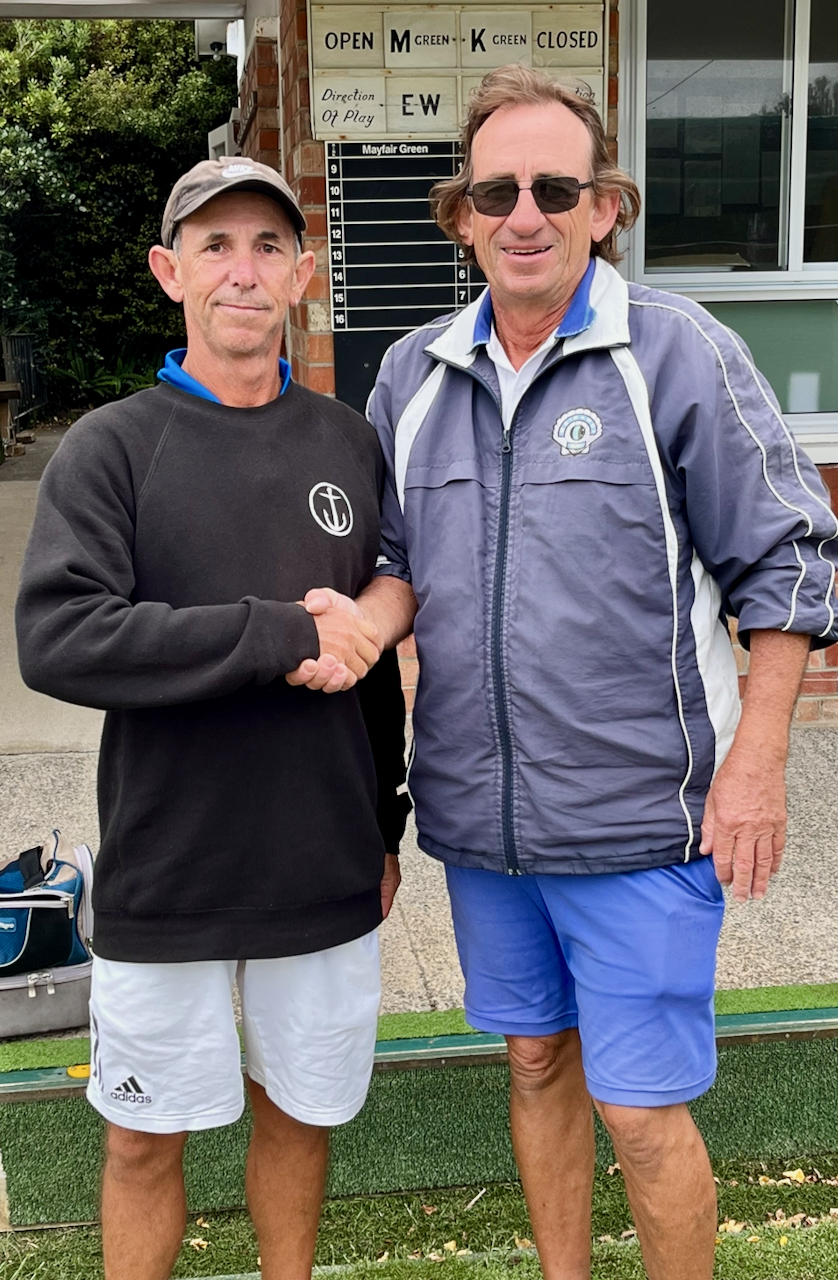 We wish David success in the Champ of Champ Singles, to be played this coming weekend at Browns Bay.
Here is a link to the Conditions of Play including the draw.