Another stunning winters day and a full field on the Harcourts Community Carpet green for this weeks any combination, open triples.
The winning team had a combined age of 262 which is an average age of just 87.  What that means is that there is hope for all younger bowlers, so congratulations to Des Lowe, Roy Finlay and John Miles.  They had 4 Wins, 23 Ends and 42 Points.  You are inspiring to all of us.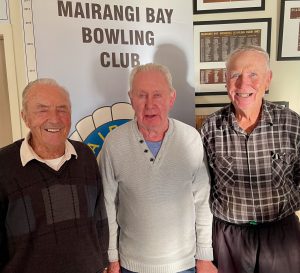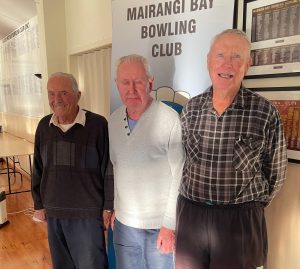 Congratulations Legends, that deserves two photos!!
2nd – 4W, 18E, 48P – Arthur Beale, Brian Rogers and Kevin Cameron
3rd – 3W, 24E, 45P – Phil Chisholm, Ric Lydford and Wynn Grey
4th – 3W, 20E, 42P – Leon Wech, Baz McCrystal and Judi Farkash
5th – 3W, 19E, 50P – Megan, Geraldine and Glenda from Milford (no surnames on card sorry)
am prize – Murray Radojkovich, David Payne and Colleen Rice
pm prize – Tony James, Graeme McGregor and Steve McGregor