Stunning conditions all day for the Thursday competition with all 9 rinks on the Harcourt's Community Carpet Green being utilised. Yes, a full field and next week is also full so get your name on the wait list if you are wanting to participate.
The team with the best score for their 4 wins was the team of Ron Horne, Bevan Smith and Wynne Gray.  They won 28 ends.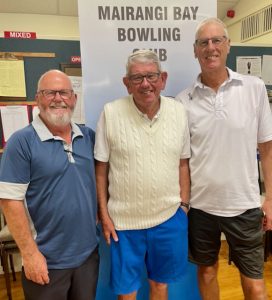 2nd – 4W, 26E – John Miles, Des Lowe and Jim Price
3rd – 3W, 19E – Chris Taylor, Megan Ratcliffe and Glenda Brackenbridge
4th –  3w, 19E, however less points – George Durbridge, Ian Baxter and John Lindsay
other prizes went to the Arthur Beale, Brian Rogers and Bill Lowe team, plus the team of Peter Orgias, Allan Langley and Gordon Jenkins.