Two fantastic days for bowls in the Greenwich Gardens Founders any combination triples, played over Wednesday 9 and Thursday 10 March 2022.  The feedback from our visitors was that the Mairangi Bay Bowling Club reputation was further enhanced by the running of such a well organised tournament, on such nice greens.  Many thanks to all the volunteers who helped out and especially to David Pearse and Sandra Coombe. Sandra put in many hours in preparation and two long days of the tournament.  What a star!!
Many thanks to our valued sponsor, Greenwich Gardens.  It seems that your sponsorship is paying off grandly with many of our members now living at Greenwich Gardens.
Day one was to determine the top eight teams playing for the trophy and the others playing for the plate.
Top qualifier was the team of Neil Fisher, Bryan Chapman and Colin Rogan (53 Points), with John Miles, Kevin Cameron and Caryl Miles just one point back as the second to top qualifier.
Others to qualify in the trophy sections were:
Ian Coombe/Bruce Aley, Colleen Rice and John Valentine (39P)
Peter Orgias, Allan Langley and David Hope (47P)
David Payne, Robyne Walker and Theresa Rogers (49P)
Murray Radojkovich, Arthur Beale. and Brian Rogers (46P)
Evan Thomas, Grant Keates and Phill Chisholm (45P)
Larry Cain, Stuart Jamieson and Tony Trent (39P)
The division B competition winners were Wendy Jensen, Trish Hardy and Ian Hardy.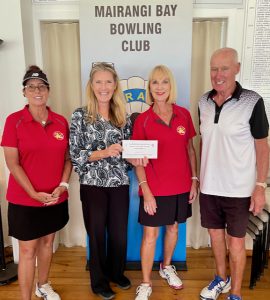 2nd and 3rd in division B were Kevin Beasley, Les Brown and Bruce Hickman followed by Alan Daniels, Steve McGregor and Ron Horne.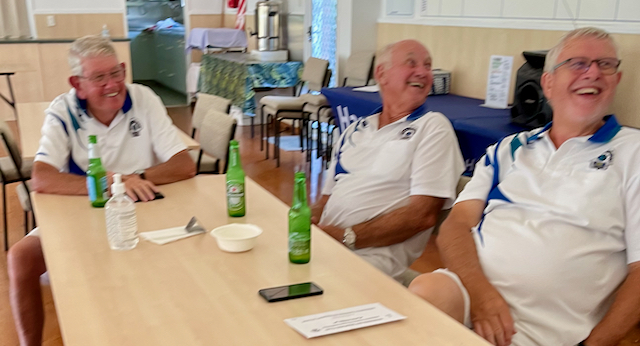 In the trophy completion, the draw saw the top two qualifiers face off in the first round of knock out games, with Fisher going through to meet Orgias as they took out the Valentine team.  The Orgias team had a 3rd year bowler substitute in Ian McGovern and he impressed the selectors, the competitors and his team mates with some outstanding bowls.
Evan beat Payne, Radojkovich beat Cain.
Down to 4.
Fisher and Thomas went through to play off for the trophy, with the team of Evan Thomas, Grant Keates and Phill Chisholm taking a resounding win and the trophy.  C O N G R A T U L A T I O N S