2 days of brilliantly fine weather and the Knightsbridge and Mayfair greens running nicely for the Harcourts Cooper & Co sponsored Classic. Whew it was hot at times, which made the ice cream on day two even more enjoyable.
We welcomed teams from Takapuna, Howick and Hobsonville, and players from Orewa, Kerikeri, Birkenhead, Milford and Browns Bay.  Many thanks for supporting our tournament.
Overall winners were the home team of Ian Coombe, Sandra Coombe, Jan Gledhill and Barry McCrystal who were presented with the prizes by representatives of our sponsors:  Martin Cooper, Jo Mimmack, James Dixon and Robyn Coles.  Harcourts also provided a welcome break with their Coffee and Cone van, which for some was the highlight of the tournament.  Thank you Harcourts Cooper & Co and our loyal sponsors Jo and James.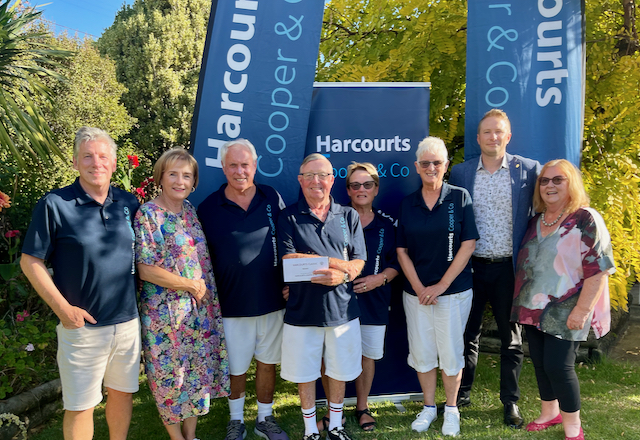 1st – 32 Points – Ian Coombe, Sandra Coombe, Jan Gledhill and Barry McCrystal
2nd – 30 P – Bruce McClinock, Elaine McClintock, Kerin Roberts and Colin Rogan
3rd – 27 P – Bryan Chapman, Neil Fisher, Alison Rennie and Gary Cotton
4th – 25 P – Brian Rogers, John Valentine, Connie Mathieson and Murray Mathieson
5th – 24 P – Phil Chisholm, Ruth Lynch, Shaun Goldsbury and Theresa Rogers
Day 1 winner – Kevin Beasley, Bruce Hickman, Bruce Fenton and Linda Fenton
Day 1 runner up – Wayne Glogoski, Ray Glogoski, Becky Papera and Joy Watkinson
Day 2 winner – Tony James, Garth Partridge, Lorna Donald and Muy Chhour
Day 2 runner up – Graham Doreen, Betty Leung, Jamie Chen and Judy MacKinnon