The Men's Championship Fours was payed over the weekend of the 26th and 27th February 2022 under ideal conditions.  The event was held under the two life system with three games played on Saturday to find the finalists who were to play the final on Sunday.
The team of Peter Orgias (skip), Alan Daniels, Kevin Robertson and Allan Langley went through the Saturday games undefeated and so took their two lives into the finals.  They met the Ian Coombe, Brian Rogers, Arthur Beale and Phil Chisholm team who had one remaining life and would therefore have to defeat the Orgias team twice to take the title.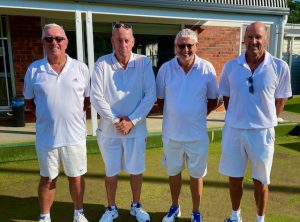 Game 1 started evenly with both teams on 6 points after 7 ends and then the Coombe team won 4 of the next 5 ends to lead the Orgias team by 15 – 8 after 12 ends, three ends to play. The three ends were tight with just the one shot conceded and after the 15 ends, the Coombe team won game 1 by 16 to 10.
Game on for Game 2 – the final final.
Coombe started stronger, however there was just the one shot each end for the first 5 ends and the score was 4 – 1 to Coombe.  And then the bounce back, with Orgias scoring on the next three ends (including a four on the 8th end) to pounce into the lead by 10 – 5 after 10 ends.  Five ends to go.  And then the pressure came on and Coombe took 10 shots off the next three ends to lead 15 – 10 after 13.  Two singles to Orgias were not enough on the last two ends and so the champs were found.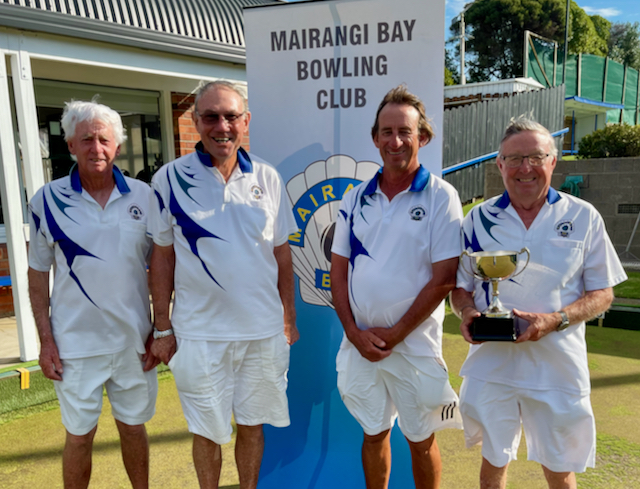 Congratulations to Ian Coombe, Brian Rogers, Arthur Beale and Phil Chisholm, our Men's Championship Fours winners for the 2021 – 2022 season.  Thanks for an entertaining and great final battle to the Orgias team.