Yes it was yet another scorcher for the Open Pairs on Thursday 6 Jan 2022.  However the breeze kept the temperature manageable and added an extra level of difficulty to the playing conditions.
The greens were running at a fairly fast rate, perhaps not as quick as they have been in other years, and the 90 degree swing at lunchtime takes some longer to adjust to than others.
No problem to the team of Gay Horne and David Payne, the only 4 winning team.  Congratulations Gaye and David.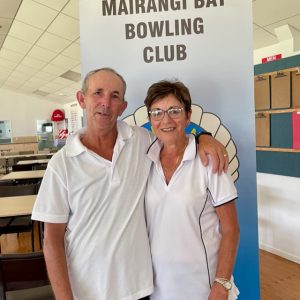 1st – 4w, 34E, 71P – Gaye Horne and David Payne
2ns – 3.5W, 31E, 62P – Alan Daniels and Ron Horne
3rd – 3.5W, 28E, 60P – Peter Orgias and Allan Langley
4th – 3W, 28E, 55P – John Gledhill and Steve McGregor
There was a generous number of the prizes with am and pm prizes for each green and a lucky dip.
Thanks to Jean Ashby and Linda Valentine for a scrumptious morning tea and to David Pease for yet another well run event.