Oh yes, the weather turned on another brilliant day for bowls and we welcomed visiting teams from Birkenhead and Takapuna to the open triples competitions.  The field was strong and the morning tea was scrumptious, thanks to Linda Valentine and Phil Humphries.
As play got underway there was already some work done to prepare the greens and also by our volunteers to mark up the greens and get the boards out.  Thanks to all who were helpers, and to those who tidied up at the end of the day.
The only 4 winning team  was the team of Leon Wech, Barry McCrystal and Bevyn Darlington.
C O N G R A T U L A T I O N S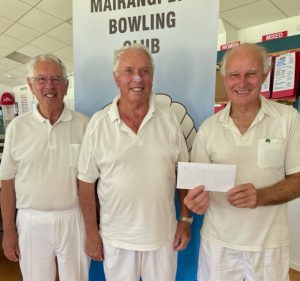 1st – 4W, 23E, 55P – Leon Wech, Barry McCrystal and Bevan Darlington
2nd – 3.5W, 28E, 65P – Ruth Lynch, Evan Thomas and Ian Hardy
3rd – 3.5W, 23E, 42P – Peter Orgias, Ray Avvidson and Allan Langley
4th – 3W, 28E, 51P – Arthur Beale, Kevin Cameron and Brian Rogers
5th – 3W, 24E, 46P – Jim Price, Tony Stanaway and Geoff Ladd
am prize – Alan Daniels, Rick Dixon and Ron Horne
pm prize – Brian Nolan, Kevin Robertson and Bob Mullen