The weather was once again perfect for summer bowls and we had a good full field for the Saturday pm Haggle.
The blind draw for the pairs turned up some particularly strong looking teams and there was always going to be some close games and some interesting results.  Coming out on top of the results, with 3 Wins, 15 Ends and 32 Points, was the team of Norm Clarke and Louise Ball.  Congratulations!!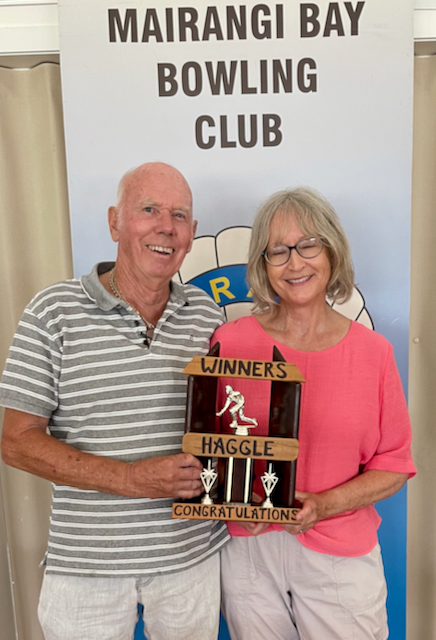 1st – 3W, 15E, 32P – Norm Clarke and Louise Ball
2nd – 2W, 12E, 31P – Steve McGregor and Rosemary Nicol
3rd – 2W, 11E, 23P – Tony Trent and Jane Mackay
4th – 2W,n11E, 16P – Phil Humphries and Rhonda Dredge
lucky dip Enid Di Cesare and Annie McGrath
With our regular organiser Russell Parkinson away catching trout on the Central Lakes, Enid Di Cesare sorted out the field and all the task associated with the running of the event.  Thank you Enid, you did a great job.  Thanks also to those who put out the boards, marked the greens and tidied up afterwards.
Entries are open for Saturday 19th.  Single entry booked online.  There are just a few more weeks before we get to play on the Harcourts Community Carpet green so make the most of the fabulous conditions on the grass greens while they are still available.