Another outstanding afternoon with a field of 32 competing in the Saturday pm Haggle.  What a success this event is.  Many thanks to Ric Lydford who stepped in at the last minute when we received a late withdrawal.
There were plenty if two winning teams, and no three winner.
Best of the day was the two and a half wins by George Durbridge and Muy Chhour.  2.5Wins, 15 Ends and 29 Points.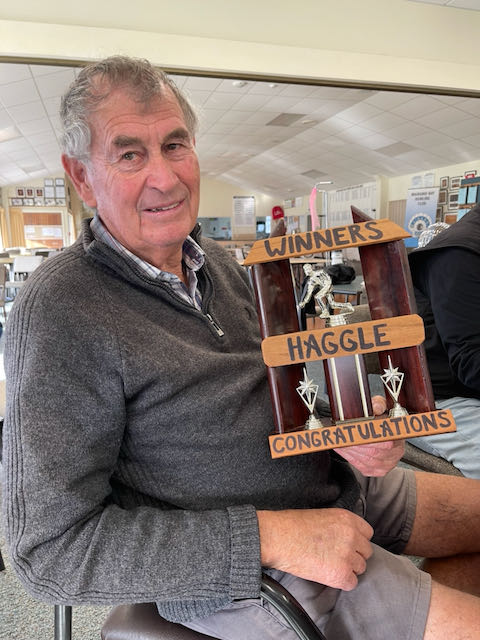 2nd – 2W, 15E, 34P – David Payne and Stuart Mackay
3rd – 2W, 15E, 19P – Peter Orgias and Marie Potter
4th – 2W, 13E, 27P – Tony Trent and Rick George
Updated Aggregate Points Table:
| | | |
| --- | --- | --- |
| 38 | Steve | McGregor |
| 32 | Peter | Orgias |
| 30 | Graham | Ward |
| 27 | Ian | McGovern |
| 26 | Jim | Center |
| 26 | Geoff | Ladd |
| 26 | Stuart | Mackay |
| 26 | Janette | Orgias |
| 26 | Michael | Thomas |
| 25 | Marie | Potter |
| 23 | Rick | George |
| 22 | Barry | Butcher |
| 22 | Wayne | Glogoski |
| 22 | Russell | Parkinson |
| 22 | Roger | Potter |
| 21 | Michael | Cairns-Cowan |
| 19 | Tony | Trent |
| 18 | Muy | Chhour |
| 17 | Rick | Dixon |
| 17 | David | Payne |
| 16 | Bruce | Aley |
| 14 | Graeme | McGregor |
| 13 | Tony | Popplewell |
| 12 | Bob | Mullen |
| 12 | Mick | Taylor |
| 11 | Faye | Kitchen |
| 11 | Neville | O'Connor |
| 11 | Garth | Partridge |
| 11 | Chris | Tegg |