The weather forecasting app received a record number of views on Wednesday evening and Thursday morning as the rain had been bucketing down for 24 hours.  However the Thursday forecast looked like there would be a chance to get play underway and then perhaps there would be a few heavy showers during the day.
But guess what??  There was just the one light sprinkle and the rest of the day was clear and bright, although the temperature and the number of layers of clothing required were dictated by whether the sun was out or if it was behind a cloud.
Another full field of 18 triples teams, competed 4 games on the Harcourts Cooper & Co Community Carpet Green, with the team of Gaye Horne, Ron Horne and Larry Cain being the only 4 winners.  They managed 4 Wins, 20 Ends and 33 Points.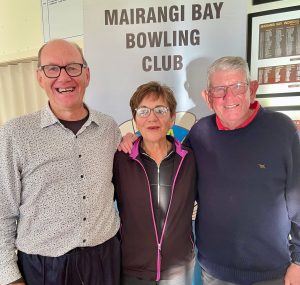 2nd – 3.5W, 21E, 44P – Murray Radojkovich, Colleen Rice and David Payne
3rd – 3W, 23E, 41P – Leon Wech, Chris Taylor and Barry McCrystal
4th – 2W &2D, 23E, 33P – John Miles, Des Lowe and Roy Finlay
5th – 3W, 21E, 45P – Stuart Jamieson, Geoff Ladd and Tony Trent
am prize – Tony James, Steve McGregor and Neville O'Connor
pm prize – Phil Chisholm, Theresa Rogers and Ric Lydford