Great to have teams visiting from clubs around North Harbour and also great to not have to swing 90 degrees at lunchtime.  The warm breeze from the North East was gusty in the morning and more steady in the afternoon.  While it would have been really hot without the breeze, it will be nice to have a day or two bowling without the wind.
In the after match function we were all shouted a drink by Graham Ward on his 90th birthday.  While some practice is needed on the singing of the happy birthday song, best wishes, congratulation and thanks, were sincerely extended to Graham, who also featured in the prize list.  Perhaps some of the vocal cords were impacted by the delicious cakes baked and provided by Cathy Lloydd.  Many thanks Cathy.  Fantastic to see you bowling so well Graham.  You are an inspiration to us all.
With both greens in play and no byes, there was a very competitive field for the three bowl pairs.  Two teams managed four wins.  Best on the day was the team of Ruth Lynch and Ian Hardy.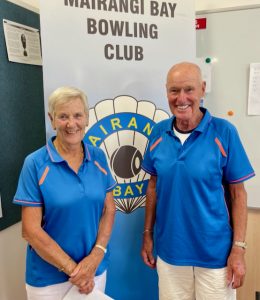 C O N G R A T U L A T I O N S
1st – 4W, 43E, 81P – Ruth Lynch and Ian Hardy
2nd – 4W, 35E, 68P – John Miles and David Lloydd
3rd – 3.5W, 35E, 62P – Phil Chisholm and Theresa Rogers
4th – 3.5W, 30E, 50P – Wayne Glogoski and Graham Ward
5th – 3.5W, 29E, 63P – Roy Parker and Steve Doolan
6th – 3W, 38E, 79P – Ric Lydford and Colin Rogan
lucky dip to Russ Noble and Graham Ball
am prize to Peter Orgias and Allan Langley
pm prize to Judi and Marquesite
Many thanks to all the volunteers who helped set up the greens and put away the gear.  Also many thanks to Janne and Linda for a very welcome morning tea after the first game.  This initiative has been introduced by John Valentine who, while unable to play today, organised, sold and handed out the raffle prizes.  Thank you John  (and Leon)