On Sunday 17 January we had 6 teams participating in the Women's Triples Championship with 4 teams to qualify for the post section rounds.  Thanks to the good cooperation from all the teams, the quarter-, semifinals and final could be played on Monday 1st February, being Auckland Anniversary Day.
Mother Nature provided us with good weather once again.
In one of the semi finals Phyl Humphries, Elwyn Beatson and Marian McDonald (standing in for Rosemary Nicol) met Alison Rennie, Jeanette Orgias and Caryl Miles, with Alison's team winning in a close and exciting game 22-19.
The other semi final had Jan Gledhill, Gaye Horne and Theresa Rogers beating Sheryl Wellington, Gayle Wilkinson and Colleen Rice 19-6.
In the final Jan, Gaye and Theresa beat Alison, Jeanette and Caryl 19-4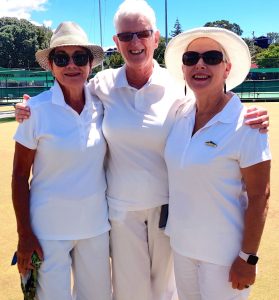 Congratulations to the winners and thanks to all for the entertainment!
Report by Gerd Hutcheson