The greens were well used on Saturday with the Women's Handicap pairs, the Junior Men's 1 – 5 years singles and the Haggle being played.
In the Haggle, there was only one three winner on the day. It was Alan Telford and Graham Ward.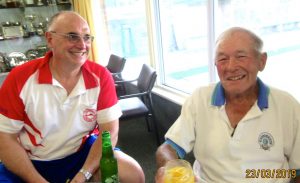 The best of the two winners was Russell Parkinson and Larry Cain.
The next best two winner was Les Boulton and Tim Schofield.
A special thank you to Tim and John who helped to make up the numbers after competing in the junior championship.
Regards
Rex