In the continuing warm weather Leon Wech with the help of Tim Schofield carried good form and they were the only 3 winner.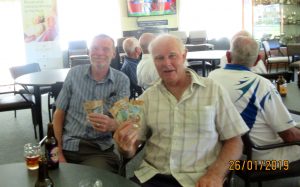 With 2 wins and 13 ends with 25 points were Mick Wilkinson and Gaye Horne so they took second place just ahead of Peter Orgias and Garth Partridge who had the two wins and 13 ends but only 21 points. So they took third place.
Next weekend is busy —
Saturday – Haggle starting at 1:00 pm Mufti.
Sunday – Drawn Mixed Triples or Fours (depending on the number of entries) – single entry
Wednesday – Waitangi Day State if Origin starting at 1:00 pm -please tick your name on the sheet currently up on the whiteboard.  Indicate your "State of Origin" or "Country of Origin" and wear your team or country colours.
Regards
Rex