The Silverfin sponsored Triples saw a full field compete in conditions that were ideal for Autumn bowls.  The Harcourts Community Carpet green was running very fast, especially in the morning with the dew still laying.  Thanks to the generous sponsorship from Silverfin Capital, for the post match drinks and nibbles.
Broden Race and Tayler Handcock, from Silverfin Capital, presented their latest investment opportunity which is the syndication of a commercial property on the industrial outskirts of Hamilton.  It sounded like an investment winner. https://silverfin.nz/
As far as the bowls was concerned, four wins were needed to make it to the prize winner list, with the best of the four winning teams coming from Takapuna.
Congratulations to Chris Taylor, Bevan Smith and Jan Calcott who had 4 Wins, 26 Ends and 67 Points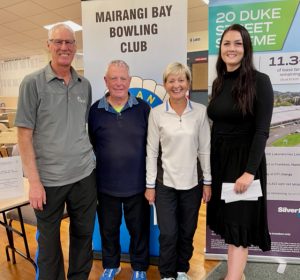 2nd – 4W 24E, 57P – Leon Wech, Baz McCrystal and Phill Chisholm
3rd – 4W, 24E, 49P – Murray Radojkovick, David Payne and Colleen Rice
4th – 4W, 21E, 47P – Peter Orgias, Allan Langley and Janette Orgias
am prize to Ruth Lynch, Evan Thomas and Ian Hardy