Many thanks to our sponsor, Silverfin Capital, a leading commercial property syndicator, with over $388 million of property assets in their portfolio.
Once again the weather was just perfect for a full day of competition on our excellent greens.  The format for the Silverfin Fives is mixed teams of 5 players, playing both pairs and triples, with the team makeup changing for each of the 3 rounds.  The next Silverfin Fives is on Tuesday 18 December, when we look forward to welcoming our sponsors from Silverfin.  Please tick the sheet to indicate that your team is able to play on the 18th December.
For the first time we had a team winning all 6 games and that was the team of Ian Coombe, Sandra Coombe, John Valentine, Gaye Horne and Ron Horne.
C O N G R A T U L A T I O N S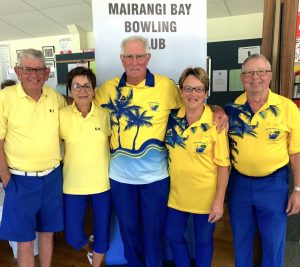 2nd – 5.5 Wins – Ian Hardy, Ruth Lynch, Trish Hardy, Lionel Drew and Evan Thomas
3rd – 4.5 Wins – Geoff Ladd, Muy Chhour, David Lloydd, Pat Clarke and Norm Clarke
4th – 4 Wins – Murray Radojkovich, Des Lowe, Theresa Rogers, Brian Rogers and Barry McCrystal