What a wonderful night. We have been so lucky with magnificent weather throughout.
After a round robin of 5 weeks, finals night came down to the top 4 teams playing for the trophy and three further divisions playing to win the Bowl, the Plate and the Spoon sections.
The Trophy was won by Four Play who beat the Underarmers in the 1st finals round and faced Dolls With Bowls who beat That's How We Roll in their 1st round in the final.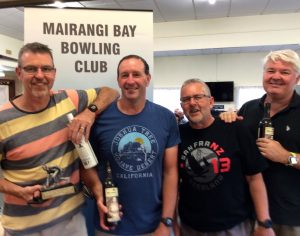 The winning team Four Play – Paul Dean, Allan Jury, Grant Watson and Warren Suttie.
Four Play started the final strongly and despite a comeback held off Dolls With Bowls to win the Championship and the trophy.
Underarmers came 3rd and Thats How We Roll a very creditable 4th.
In the Bowl the winners were Irritable Bowls Syndrome, with Young At Heart 2nd and Quentin Tarantinos 3rd.
The Crackerjacks won the the plate with Great Bowls of Fire 2nd and Movers and Shakers 3rd.
Finally in the Spoon the Jokers prevailed with the Bowling Stones 2nd and Martinovich Quartet 3rd.
I would like to thank all those club members who assisted in running our Social Business House Bowls and also all the participants in this very popular social event, including our bar team who seem keen to go to any lengths to ensure the BHB players are having a good time.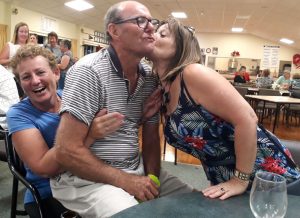 We are fast reaching maximum capacity for this event however if you have friends or family who would like to participate then get in touch with Stuart at jamieson_family@xtra.co.nz The next round commences in February and demand is strong. Details will be sent in mid January.
On behalf of the Mairangi Bay Bowling Club we wish you all a Merry Christmas and a safe and Happy New Year.
We look forward to hosting you all again in the New Year.
Cheers,
Stuart Jamieson