The State Of Origin half day is a fun event, single entry drawn teams, starting at 1:30 pm.  Your are encouraged to wear your State of Origin sports team colours.
The bowls starts at 1:30 pm and after the bowls there is a Chinese meal for those who indicate they wish to stay for the after match social event.  Partners are welcome to attend the evening meal and social time.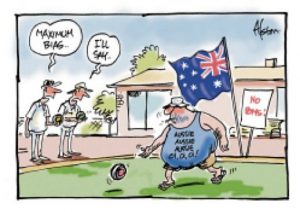 The entry sheet is up on the whiteboard.
Single entry with your region of birth determining your "State of Origin".
Meal to follow the bowling with partners welcome.
If you are available and would like to take part, please add your name to the entry sheet.