The wind blew but the rain did not come.
There was only one four winner and that was the team of
Ruth Lynch,  Evan Thomas and Ric Lydford.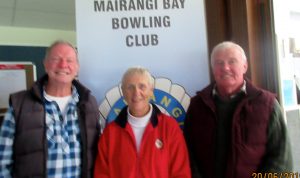 The following all had three wins.
Second was the Leon, Tony and Bevyn team with 23 ends.
Following also on 23 ends but 4 fewer points were Peter, Gordon J and Gordon R.
In 4th place were Brian, David L and Arthur. The last of the 3 winners was the Stuart, Des and Priscilla team.
 Rex