Women's Champ Singles
The Women's Champ Singles was played over the weekend 18/19 January. Eight players took part including two of our 1st year bowlers, Rosemary and Marian, who both played very well and gained a lot of experience.
The four qualifiers were Colleen (top qualifier and the only three winner on Saturday), Theresa, Jan and Gaye.
Jan played Colleen and Theresa, Gaye on Sunday morning. Colleen was the winner of a very close game and on the other rink Theresa also won.
Into the Final between Colleen and Theresa the lead changed several times and going into the 26th end there was only one point the difference between the two, Colleen 20 and Theresa 19. With her first bowl Theresa drew just behind the jack to give her the shot. Colleen was a little heavy and Theresa drew another shot just beyond the first leaving the jack tucked between the two bowls putting the pressure on Colleen to draw the perfect shot. It almost looked as if she had succeeded but it was a fraction wide and just rolled past, leaving Theresa with the two shots required to win the game.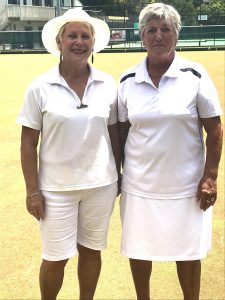 Theresa was the singles winner last year so retains her title for another year. Well done Theresa and Colleen. A very good game.
report: Phyl Humphries
photo:Gaye Horne