There have been two club two competitions completed this last couple of weeks.
First was the –
Women's Junior Singles:
Six players competed in the above which was run as a 'round robin' tournament and the winner was Theresa Rogers, who won all her five games, making her the outright winner, thus retaining the trophy which she won last year.   This is her last year as a junior.
As the programme is very full already, neither Colleen or Enid were overly interested in playing their remaining game to decide the runner up,  so there isn't one!
The second competition to be completed was the
Women's Champ Triples 2 & 3 March.
Eight teams competed and the four qualifiers were:
Sheryl Wellington/Gayle Wilkinson/Colleen Rice:   Jan Gledhill/Gerd Hutcheson/Theresa Rogers:   Raewyn Parker//Trish O'Malley/Priscilla Page:   Sandra Coombe/Jeanette Orgias/Cathy Lloydd.   
In the two semi finals Sheryl's team beat Sandra's quite comfortably.
The semi final between Raewyn's team  and Jan's was much closer 15 all going into the last end, with Raewyn's winning the last end by two shots.
The Final between  Sheryl's team (who had played great bowls throughout the competition) was much more clear cut, 28/5 to Sheryl.   They will thus go on to represent the Club in the Champ of Champs on 18/19 May.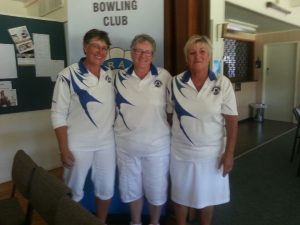 The next Women's competition. is the Drawn Handicap Pairs on 23/24 March S.E.   9:00 a.m. start, not 9.30 a.m. as in the book.
The Mixed Champ Pairs on the 30/31 March. 
Mixed Half Day  Tournament Tuesday 19 March
The entry form is on the notice board.  Single Entry.  1:00 p.m. start.
Phyl.