Women's 1st year Singles
With four contestants, Rosemary, Marian, Flora and Glenda, there were three rounds so everyone played each other. Three of the four games went to 22, 24, and 25 ends, so all the games were hard fought, but at the end of the first two rounds there were only 2 two-winners, Rosemary and Marian and they were due to play each other in the last round. And what a game it was!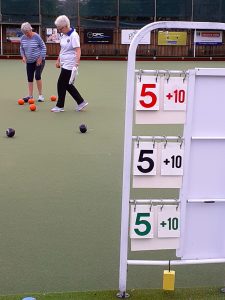 At the end of the 8th end things were pretty even, 7-9 to Marian, who then surged ahead to 7-15. Rosemary then got into gear and on the 15th end they were 15 all. Rosemary scored another point on the 16th. Then it was Marian's turn to score again, which she did for the next 3 ends making it 16-19 but Rosemary didn't give up and scored a 2 and a 3 on the next two ends thus winning 21-19 after 21 ends. The game was a credit to both players and very enjoyable to watch.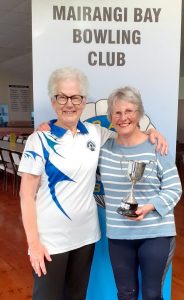 Some great bowling was seen throughout the competition and all four players said how much they enjoyed it and how much they learned. That was good to hear. I'm sure we will see a lot more good games from them in the future.
Phyl.