The weather was HOT, the quality of the bowls was HOT and the competition for the HAM prizes was also HOT.
Quay Travel on Apollo Drive were the sponsors for the day and we learned that they have a mature well-experienced team of 9 consultants who are able to help with your travel plans. Not only do their consultants travel extensively themselves but Quay travel have strategic alliances with tour companies, cruise companies and hotels that allow them to provided upgrades and special prices that are not available through other travel agencies.  Cruising is so popular that Quay Travel have a team dedicated to cruising and receive early notice of special deals such as the waiving of the single occupancy charge for those wishing to have a cabin to themselves.
Visitors were from Orewa, Sunnybrae, Browns Bay, Takapuna and Birkenhead, with Neil Bucker, Barry McCrystal and Garth Partridge inserted into teams to make up the numbers.
This strong field was headed by the team of Jan Gledhill, Caryl Miles and Theresa Rogers who managed 4 wins, 20 ends and 59 points.  Congratulations!!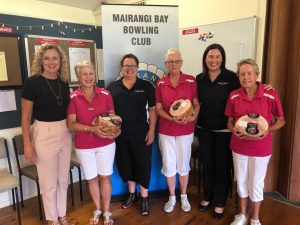 Second went to the team of Elaine McClintock, Kerin Roberts and Bev Lomas with 4 wins, 19 ends and 27 points.
Third were Christine Dalzel, Jan Harison and Neil Buckner with three and a half wins and the best of the 3 winners, in forth place, was the team of Lily Hinton, Jo Baxter and Elwyn Beatson.
Many thanks to Michell and her team at Quay Travel.
www.quaytravel.co.nz                                                                        www.quaycruise.co.nz
Drop in to Quay Tavel, 2/49 Apollo Drive, Mairangi Bay
or call them on ph 477 0212