Despite the weather's best (or worst) efforts all 4 games in the first round of the Arena Living Triples were completed.
Kylie Lindsay from Arena Living was on hand to present the prizes.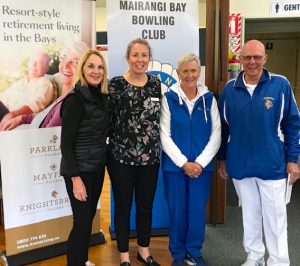 The only 4 winner was the team of Lionel Drew, Ruth Lynch & Trish Hardy.
There were 3 teams with 3 1/2 wins, the best of which was a team new to the competition Kevin Robertson, Beth Drummond & Louise Ball. Well done!
Round 2 is Tuesday November 5 which is also Melbourne Cup Day so bring plenty of change for the sweepstakes .