Conditions started our rather cool and and warmed up as the day went on and the sun came out, although the breeze kept the temperature down from the earlier days of October.
The Knightsbridge green was set up East West and Mayfair was North South. However as teams played all four game on the same green, this did not have an impact on the results for the day, with the top prizes spread across both greens.  Feedback from our visitor was that the greens are running true and the conditions were "beautiful".
Our thanks to Rowena from ARENA Living on attending to present all the prizes and to receive our gratitude of the ongoing sponsorship
that we receive from ARENA Living.  Our members are very pleased with  investments they have made and  the help and support that they receive from ARENA Living
https://www.arenaliving.nz/
First on the day was the team of Garry Bank, Robyne Walker and Anne Dorreen with 3.5 Wins, 36 Ends and 66 Points.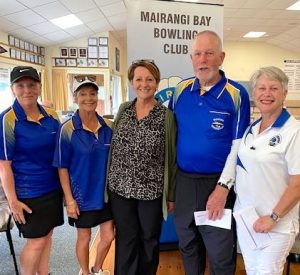 2nd – 3.5W, 30E, 60P – Chris, Bevan and Jan C
3rd – 3.5 W, 28E, 56P – Ian, Sandra, Bruce
4th – 3.5W, 26E, 48P – Kevin S, Keith, Rosalie
5th – 3W, 34E, 80P – Leon, Stuart, Colleen
Many thanks also to those who volunteer their time to set up, to tidy up and to ensure the event runs smoothly, especially to Theresa Rogers and Sandra Coombe, the main organisers of the ARENA Living monthly competition.
We look forward to welcome you, the competitors, and other teams, back on Tuesday 3rd November, Melbourne Cup Day for the next ARENA Living Open, Mixed Triples starting at 9:30 am.