Our thanks to Arena Living for sponsoring another highly successful and well attended Open Triples in conditions that were made a little tricky with the south westerly pushing through combined with the direction of play switch from North / South to East / West.
The wind and the direction change did not throw the team of Judy Cowie, John Gledhill and Steve McGregor off their game.  The had 4 Wins and 36 Points to be the best team on the day.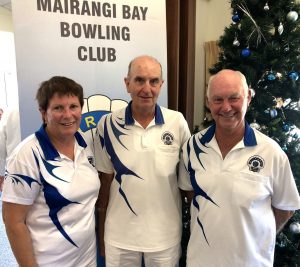 C O N G R A T U L A T I O N S
2nd – 4W, 34E, 68P – Phil Chisholm, Jan Gledhill and Allan Langley
3rd – 4W, 32E, 76P – Murray Radojkovich, Brian Rogers and Theresa Rogers
4th – 4W, 31E, 47P – Alan Daniels, Mike Wilkinson and Gayle Wilkinson
5th – 4W, 27E, 68P – Garry Banks, Robyn Walker and Anne Dorreen
Daily Prize – Chris Taylor, Bevan Smith and Jan C     – 2 Wins in the afternoon and 17 Ends
click the following link to view the table points to date.
20201201 Arena Living 2020-21 points