Last Sunday, 6 November,  saw the completion  of the Bowls North Harbour Men's and Women's Pennants.
Mairangi Bay had six teams entered.
The Mixed A team of none player in teams of three:
Team 1 – Allison Rennie, Phyl Humphries and Ron Rennie.
Team 2 – Elwyn Beatson, Glyn Taylor and Julie Chhour.
Team 3 – Norm Clarke, Annie McGrath and Steve McGregor.
They finished second in their round robin and had to play Takapuna, whom they lost to in pool play, in the Grand Final, winning 10-0.
We had a mixture of experience along with three Junior bowlers and they came up with a fantastic result. I will not tell you the combined age of team 1.  A great effort by our Mixed A team.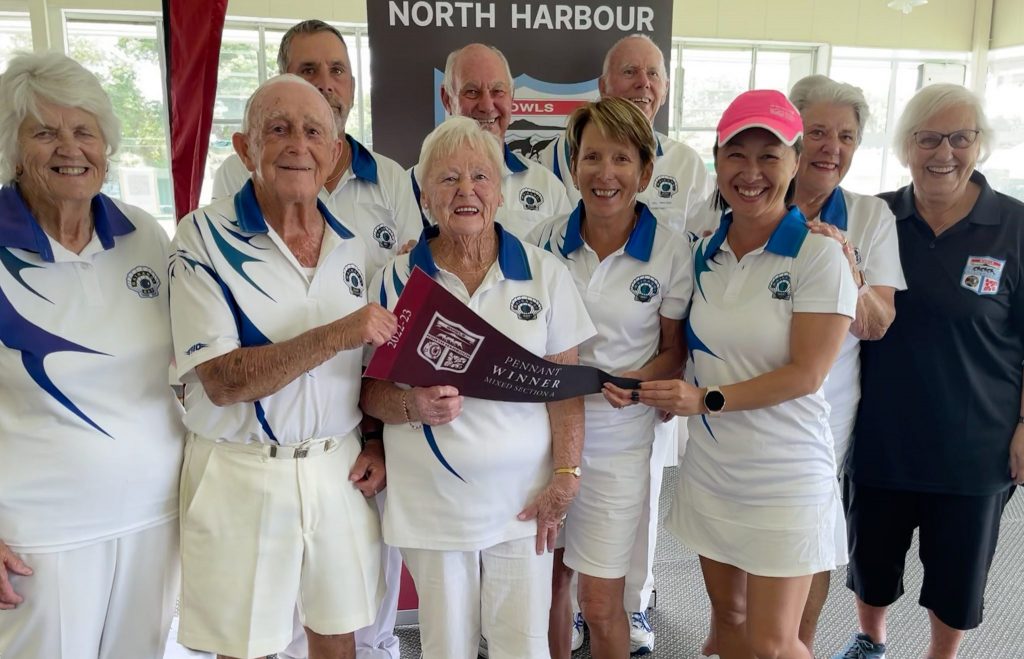 Our Women`s Premier team (six players in two teams) played very well winning four of their five pool matches.
They finished second in the pool to make the final against the Birkenhead Bees.  The Birkenhead team prevailed 7-1 to take the title.
The Women's Premier team was:
Team 1 – Sheryl Wellington, Jan Gledhill and Glenda Rountree.
Team 2 – Gaye Horne, Joy Watkinson and Theresa Rogers.
Gaye's team had a good lead in the final but the Trish Croot team pegged them back to draw.  Sheryl's team struggled in their game against Millie Nathan's team whom they beat in the round robin.
Still a top effort by this team and special thanks to Glenda who stepped in for Colleen and bowled very well.
Our Men`s Premier team struggled in qualifying with mixed results and in the end did not play their last two games.  Thanks to Bevyn Darlington for filling in for Brian Rogers.
Our Division 1 Men`s and Women`s teams also had mixed results and were unable to qualify.  The Stingrays lost four people to covid with the trip to Warkworth and carpooling, Leon Wech, Larry Cain, Kevin Cameron and John Lindsay all testing positive.  With another two unable to play in the Breakers team we needed six replacements for our Division 1 Men`s team , this was a nightmare for the selectors.
A  BIG Thank you to all the players, the weather made it very challenging.
Thanks to the team Managers also.
The biggest thank you goes to all those players that filled in for our wounded, this was much appreciated by the selectors .
Next up is the Interclub 7's later this month.
Alan DanielsP (09) 479 1489      M 027 290 0127